Welcome, and thanks for stopping by on this icy cold Sunday! I'm assuming that you all must be really cold if
we're
under a freeze warning all t

he way down in South MS

.
I hope you all enjoyed your holiday weekend and were able to rest, relax, and spend some quality time with family and friends. Today, I'm linking up with Ashley' Carnival Ride & A Complete Waste of Makeup for this week's Sunday Social-the 4's.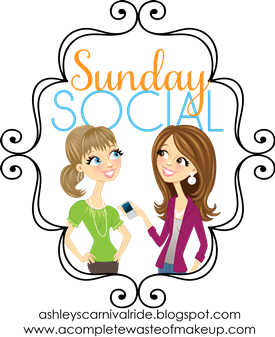 But first, if you haven't heard, there are 2 very special

giveaways

going on right now!
T

he

1st

giveaway is from my favorite crafty girl

,

Christine over at The DIY Dreamer. Stop by her blog for the chance to win some pretty awesome prizes (including $55 in gift cards alone, not to mention the gifts

!

!)
, with the November Group Giveaway

!
The 2nd

i

s the Holly Jolly Giveaway going on at sweet Maria-Isabel's Mommy Made. I'm joining in to help bring you a prize package of over $

50!
And now.....on
to the Social.....
What are the 4's you ask?
Well, here ya go

....

..........
Name 4 jobs you've had in your life
While my
degree is in Education, and I've been a classroom teacher for

ten years,

I've a

lso held some other interesting jobs

:

Legal Assistant, English Tutor, FEMA Data Analyst,
Lowes Customer Service Rep
Yes, I even got to wear

one of these beauties

!
Name 4 movies you would watch over and over
I grew up when Molly Ringwald was QUEEN, so of course 16 Candles, The Breakfast Club, Pretty in Pink, etc are up there on the list! I mean, really, who doesn't still quote "whassss happenin hot stuff?!" every once in a while?
I also LOVED Patrick Swayze to the point that I was hoping to climb through the television in Dirty Dancing. I'm sure I dreamed of Patrick saying, "Nobody puts Baby Trinity in a corner!" Grease was another favorite because I'm all about some singing/dancing in my movies. I could probably act out the entire movie, including

songs/dancing

......if anyone

is interested. ;-)
But I digress....my 4 favorites would have to be.....
Sixteen Candles

Dirty Dancing

Grease

Pretty In Pink
And......now that I've shown my age with th

at last question, on to #3......
Name 4 places you have lived
You may recall

me talking about my year in China. Well, I lived in 2 different cities during that time: Benxi and Hefei China was SO much fun, so rich with history , culture, natural beauty.....it was amazing and I

would go back to visit in a second

! Here was my home/hotel where I lived

the first 5-6 months:
As far as the hotel/home in Benxi....sadly, I do not have a picture, and you would HAVE to see this place to believe it.....It looked like a place straight out of a 70's horror movie, with a mafia den type look: red carpet, velvet furniture, sagging couch, gold lamps and glittery things everywhere. From a decorating standpoint it was pretty horrid. Not to mention, when the temperature got below 30, you didn't even want to bathe because of the draft blowing through the bathroom. Although seriously depressed the first week there, I ended up loving the city and people.....and found out a 5 star hotel was only $30 per night and a 30 minute train ride away. :-) By the way, Benxi IS famous for its underwater caves

,

which I toured over 15 times.
Source: http://www.asiatip.net/category/asia-destinations/
I lived in Virginia for a short time....actually, can you call it living if it was only a few months while waiting to go to China?

Whatever, I'm counting it, lol.

I really enjoyed my time in Virginia, especially the beauty and the fact that it SNOWED there.....and I'm talking beautifu, white, serene, stickin

g to the ground snow!
! I get so excited
about snow because we NEVER get it. Anyway, loved Virgin

ia!
And, last but not least, I lived in North MS....Columbus to be exact, while attending college.
So, to recap, there's:
Benxi
Hefei
Virginia
Columbus, MS
Name 4 of your favorite foods
I love salads, especially spinach, and could probably eat them for every meal. Seafood is another biggie with me, probably because we grew up eating so much of it. Chinese food is good, but so far, what I've eaten in the States hasn't been even remotely close to what it was like in Asia. Over there, everything was so fresh, and they often cooked it there at the table. And finally.....bread....that's right, bread. I love all kinds

of

rolls, buns, etc. It's amazing that I'm not 400 pounds.
Name 4 things you always carry with you
Coffee or Tea Cup (seriously, I really do always carry one or the other w

ith me)
Cell Phone *and charger b

ecause my phone is slowly dying
Current Book
Purse (makeup, wallet, etc.)
Name 4 places you have been on vacation
My ULTIMATE vacation was the time we went to Phi Phi Island, off the coast of Phucket, Thailand. I stayed in

the Holiday Inn bungalows there on the island, surrounded by nature. It was like paradise and absolutely took my breath away.
Source: http://thaihotels.com
One summer, I went with a friend to visit his family, in

Minnesota

. While there I went skiing on the lake, visited the gigantic Mal, was introduced to BASEMENTS, had someone ask me, every few minutes, :you're not from around here are you?, and confused all the waitresses with my order for "sweet tea."
Me: "May I have a glass of sweet tea, please?"
Waitress brings hot tea
Me: "Sorry, I meant iced tea."
Waitress: "You need ice?"
Me: "No, iced tea. You know what, nevermind.....ice is fine"
I've also visited family in

upstate New York

. Got to say, I truly LOVE that area: the grand old homes, the history, the beautiful scenery. I think I'd be happy somewhere like that

.
And finally, I've got to include several trips to Disney World and Universal Studios, down in Florida We started going to visit when I was a young girl and have gone back several times throughout the years....although none in the last 5 years, so I must get on the ball!
If you're still reading at this point..........God bless you, because it turned out a lot longer than I intended it to. Hope you have a great Sunday and thanks again for stopping by!
Love~
Trinity